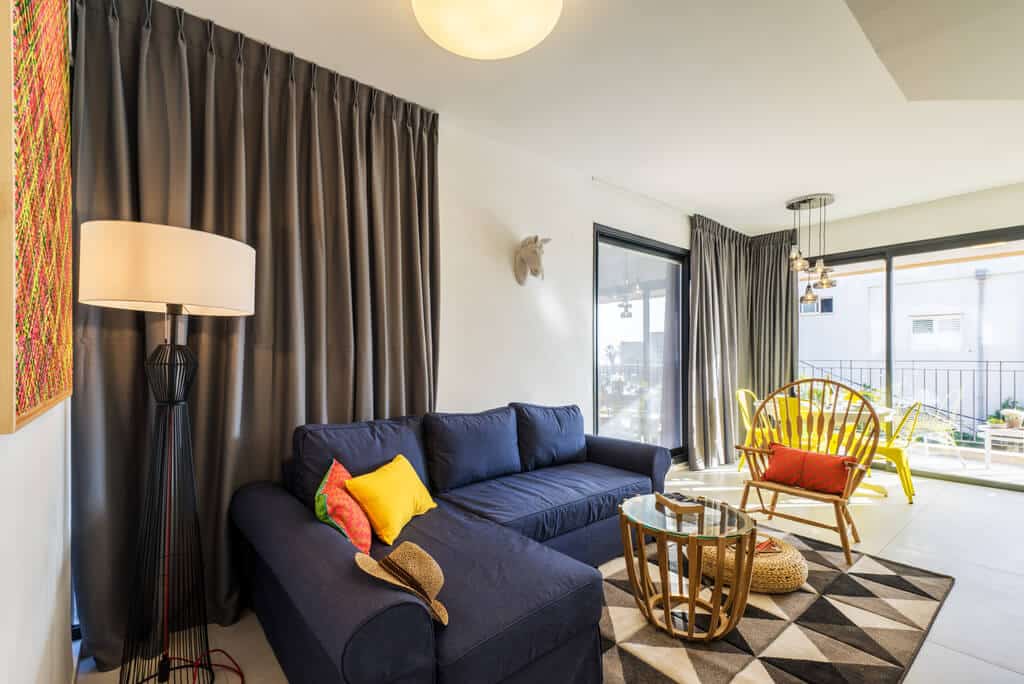 Furnished Business Apartments in Tel Aviv
Top 5 Reasons why a Corporate Rental in Tel Aviv is best for you and your Employees
Need to send an employee to Tel Aviv for a short-term project? TLV2GO.com offers fully furnished, service apartments that will make your transition a smooth, painless process. Not to mention saving you money!
Temporary relocations – whether it's for one week, one month or one year – can be a complicated, expensive, and lengthy process for companies. Finding a suitable space for your workers that will suit everyone's needs is far from easy. In one of the world's most sought after and expensive cities, that transition can be even more arduous. But with our stunning, spacious and fully furnished apartments situated in the top locations of Tel Aviv, your search will be easy. At TLV2GO.com, we ensure top quality – from service to sheets. We do the hard work so you can focus on what matters most: organizing successful short-term projects in the city that never sleeps.
In case you're wondering why furnished apartments are the best choice for companies, we've put together a list of the top 5 reasons why corporate rentals at Tel Aviv 2 Go are the best choice.
1.Save Money 
The bottom line in every successful business always boils down to one factor: making money. Fully serviced apartments not only make your life far easier, they will cost you less. Although some employees have traditionally chosen hotels, that is an expensive option that often lacks the space needed to properly conduct business. There is no doubt that a fully furnished apartment gives you the most bang for your buck. And when it comes to budget, getting more for your money is a win-win proposition. Plus, with our fully flexible contracts, you won't have any hassles with landlords. And you can book for only the amount of time you need without the long-term obligations of most apartment rentals.
2.Smooth Transitions with Flexible Terms
Making a move from a home office to a space abroad can be stressful, time-consuming and difficult for your employees. When you book a fully furnished, serviced apartment with TLV2GO.com, you provide a smooth transition for your workers. Knowing that they will have a comfortable, beautiful space to work in right away without any hassles gives everyone peace of mind. We also offer flexible terms so if your plans change, you can cancel with extremely favorable conditions. We are here for you every step of the way to make the move seamless. And an easy move gives your employees more time to focus on what really matters – the project they've come to complete in Tel Aviv. 
3.More Space for Less Money
With an average size of between 15 and 20 square meters, hotel rooms in central Tel Aviv are typically cramped. Although some may have a tiny space for making coffee, most of them don't offer a kitchen. Many employees traveling for work prefer more space and the ability to rest in comfort rather than just a place to sleep. With an average of 50 square meters or more for a furnished apartment offered by TLV2GO.com, the choice is obvious. Why send your employees to an expensive, small hotel room when you can offer them a spacious, fully-equipped apartment in a top location for less? Recent studies have shown that productivity is affected by comfort. Choosing a serviced apartment in Tel Aviv with more space will ensure your employees have the best environment possible for getting the job done.
4.Corporate Experience & High Standards
At TLV2GO.com, we offer far more than just beautifully designed, furnished apartments in the best locations of Tel Aviv. We go the extra mile to make sure our guests have everything they need. Our dedicated team are available 24/7 to troubleshoot and we take pride in ensuring our clients enjoy the highest standards for corporate housing. With over a decade of experience serving business needs, we know what matters. Our VIP portfolio service offers corporate clients a dedicated agent to respond quickly and accurately to every question and request your employees may have about accomodation. With a VIP portfolio, your employees– especially those who may not speak Hebrew– will receive the extra help they need to feel right at home. 
5.Location. Location. Location.
One of the biggest challenges for employees coming to work on short-term projects in Tel Aviv is knowing where to be. If you don't know the city or speak Hebrew, which is often the case, how can you know what location to choose? Luckily, with our fully furnished, serviced corporate apartments, we've already done the work for you. Anytime you book one of our spacious, designer apartments, you know you'll be in one of the most sought after locations in Tel Aviv. We choose every apartment based on one criteria first: location. We know that without a good location, the rest doesn't matter. Whether it's Ben Yehuda Street or Rothschild Boulevard, each and every serviced apartment we rent is in a top location that will not disappoint.
When it comes to sending employees to Tel Aviv for work, corporate apartments at TLV2GO.com offer you the best of all worlds. If you want more for your money, an easy move, comfortable, designer spaces, and top customer service in the best locations, look no further. We'll be happy to assist you in choosing the right corporate apartment for your employees today. We know Tel Aviv so you don't have to. Contact us today for help with booking a fully serviced apartment for your employees. You'll be glad you did.