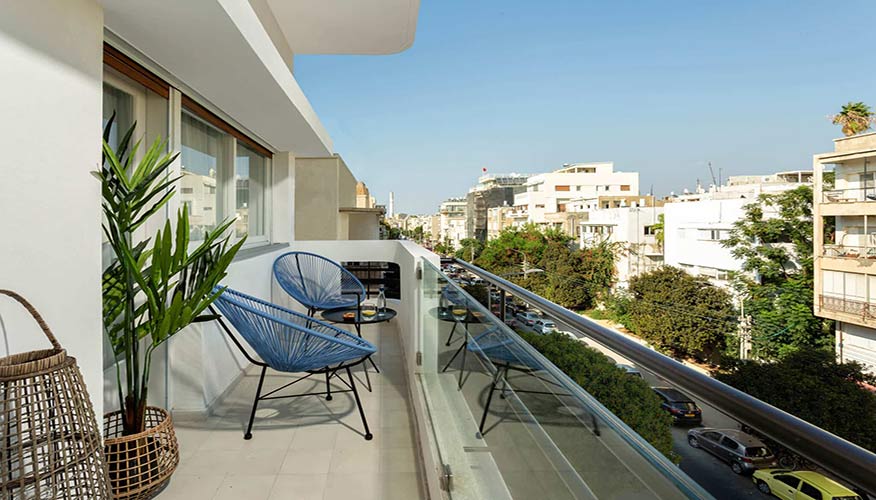 Why Rent a Studio Apartment with a Balcony? It may be the best thing you've ever done!
Why Rent Studio Apartment with a Balcony in Tel Aviv?
It may be the best thing you've ever done!
One of the greatest things about Tel Aviv is the weather. If you appreciate the sun, you'll love this place. The city that never sleeps has an average of about 300 sunny days a year, which adds up to over 3,300 hours. Renting an apartment with a private balcony will give you the perfect little spot for basking in the golden rays right at home.
As the temperature is also frequently warm – with an average of 26°C (79°F) – you can usually add swimming in the sea to your to do list. One of the 16 beaches that line the coast will surely tickle your fancy. From the small, local hangouts like Hilton Beach (around the corner from the marina) to Jerusalem Beach in Yafo where the surfers congregate, you've got a wide range of sandy stretches to choose from. Each one with its own unique vibe and attractions.
Another great way to enjoy the glorious warm weather and golden sunshine in Israel is right from your doorstep. After a long day at the beach, a studio apartment with a balcony provides the perfect place to unwind. When it comes to the ideal place to stay, a one bedroom apartment with a balcony in Tel Aviv, Eilat or Jerusalem tops the list.
At TLV2GO, we know how important it is to have outdoor space – whether you're coming for work or vacation. That's why we offer the most luxurious apartments in the best locations. We have plenty of one bedroom apartments with balconies to choose from– including the Edom Mountains in Eilat to the Old City of Jerusalem to the famous streets of Ben Yehuda in central Tel Aviv.
Beyond being the perfect spot to lap up the rays and get your daily dose of Vitamin D, a studio apartment with a balcony has other benefits.
Anyone who has ever visited or lived in Tel Aviv knows that a favorite pastime and 'must do' involves people-watching. Seriously. With more beautiful, stylish and interesting people per capita than any other city in the world, this buzzing metropolis is the place to simply relax and watch the world go by.
In a stylishly furnished, one bedroom apartment with a balcony you can do just that. Chill on your own private veranda as you take in the non-stop action. Whether it's bike riders or a roller blading group or the Taglit students or stylish fashionistas on their way to work, the streets of Tel Aviv are never empty. And they are never dull.
There is always something to see. From supermodels like Bar Rafaeli and Esti Ginzburg to famous locals like Aviv Geffen and Etgar Keret, Tel Aviv is the place to see and be seen. If you're not interested in seeing stars, the local residents will entertain you just by being themselves.
The buzz of being busy is best seen from a one bedroom apartment with a balcony. Here you can truly settle into a relaxed state as you take in the outdoor scene and warm sun on your skin.
If you're visiting Eilat and Jerusalem, a studio apartment with a balcony also has added benefits. Perhaps you're seeking a view of the Old City walls in the heart of Jerusalem. Or maybe you want a place overlooking the Red Sea where you can enjoy a glass of ice cold beer fresh from the fridge right from your balcony?
In a country like Israel where people spend the vast majority of their time outside, a studio apartment with a balcony is a super bonus. If you're planning to visit the sights by day and explore the streets by night, there's nothing better than coming home to an apartment with a balcony.
And if you're coming to Israel for a work project, a one bedroom apartment with a balcony has lesser known benefits. Balconies are a bonus for the body and the mind. It turns out that aside from a place to enjoy people watching, great views, fresh air, and warm sun, being outside is also relaxing. In fact, scientists have recently found that being outside has great health benefits, including lowering your stress levels, reducing your blood pressure, improving your mood, increasing your focus and promoting faster healing in the body.
So whether you're coming to Israel for vacation or work, finding a one bedroom apartment with a balcony is by far the best choice. If you want a place to unwind in your own private niche, Israel's temperate climate makes having a balcony a bonus year-round.
Contact us at TLV2GO today to find out about our most stunning studio apartments with a balcony. We've got something for everyone, and who knows – spending more time outdoors may benefit far more than just your vacation!