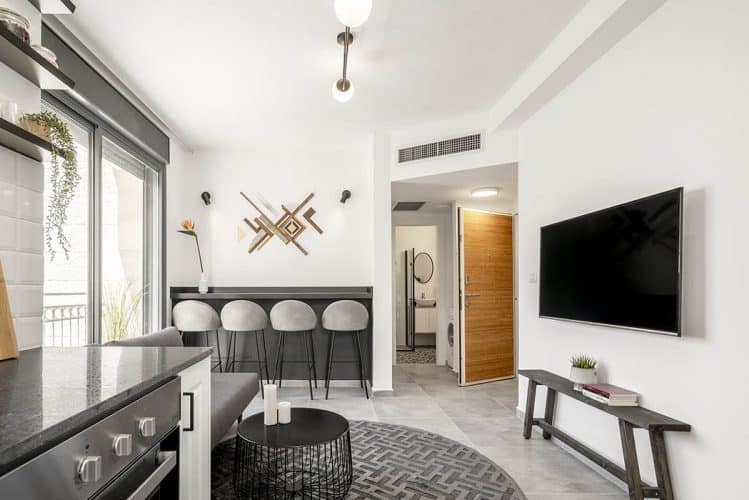 Exploring Jerusalem: Your Ultimate Guide for your Visit
Welcome to the captivating city of Jerusalem, a place where history, culture, and spirituality intertwine to create an unforgettable experience. As you embark on your journey to this remarkable destination, safety should be your top priority. But don't worry. At TLV2GO, we have over 10 years of experience with renting apartments in Jerusalem israel. We host travelers from all over the world who come for pleasure, business and sometimes on a whim! Plus, we know Jerusalem like the back of our hand. So to help our intrepid travelers get a better grasp for the ins and outs of security in the holy land, we've created this useful guide. Our top tips will help you navigate the ancient streets while keeping your adventures secure and worry-free.
1.Blend In Like a Local: Dress the Part
The first step to a safe exploration is to blend in with the locals. Opt for comfortable and casual attire that matches the city's laid-back vibe. Avoid flashy accessories or clothing that screams "tourist." This way, you'll seamlessly become part of the vibrant tapestry that is Jerusalem, and you'll be less likely to attract unwanted attention.
You have all types of dress codes in Jerusalem –from the ultra orthodox who wear top hats and black suits to the hipster crowd who go all in with the latest trendy clothing. While you may see some Israeli women bearing it all, it's probably best not to follow suit while you're in the holy city. Keep the clothing modest and be sure to have something to cover any shoulders or knees if you're visiting the holy sites.  
2. Apartments in Jerusalem, Israel: Your Home Away From Home
Your choice of accommodation matters. Look for rental apartments that provide not only a cozy living space but also a sense of security. Having a stable and familiar base to return to after your daily adventures will give you peace of mind and ensure a comfortable stay.
At TLV2GO, this is one of our top considerations. No matter which size apartment you need or the style you prefer, you can rest assured that when you book with us you'll be in a safe neighborhood. We vet every single one of our rental locations for safety first. When you book with us you can be sure you're getting style and security.   
3.Embrace the Buddy System: Strength in Numbers
Exploring with a buddy not only doubles the fun but also enhances safety. Whether you're wandering through bustling markets or discovering hidden corners, having a travel companion adds an extra layer of security. Plus, it's a fantastic way to share memories and experiences.
If you are traveling alone, be sure you know where you are going first. Plan your itinerary before you head out and speak to a local (or us) to be sure you're not headed anywhere that isn't recommended at the moment. 
4.Respect the Local Customs: Blend with Tradition
In a city rich with traditions and customs, showing respect is paramount. When visiting religious sites, dress modestly by covering your shoulders and knees. This not only demonstrates your appreciation for the local culture but also ensures a hassle-free experience at these revered locations. 
5.Stay Informed About Current Events
Staying informed about current events and safety updates is crucial. Keep an eye on local news and reliable travel advisories to be aware of any potential disruptions or safety concerns. Download a news app or follow local social media accounts for real-time updates during your stay.
Another great source for information is your local embassy. Send them an email when you plan your trip and ask about the best way to stay updated. You can always contact us too and we can help with any questions you may have before or during your stay. 
6.Navigate Markets with Care: Shop Wisely
Jerusalem's markets are a sensory delight, but they can also be bustling and overwhelming. While exploring the colorful alleys and stalls, keep your belongings close and your purse secure. A crossbody bag with a zipper is an excellent choice. Also, be cautious of distractions, as pickpockets often take advantage of crowded spaces.
As long as you pay close attention to your bags and phone, you shouldn't have any issues. And Jerusalem is a relatively safe city but just like any metropolis, thieves prey on unsuspecting tourists the most. 
7.Opt for Licensed Tour Guides: Wisdom from the Experts
To fully appreciate the city's history and significance, consider hiring licensed tour guides. They not only provide fascinating insights but also ensure you explore areas that are safe and sanctioned for tourists. A knowledgeable guide can also offer tips for navigating the city's diverse neighborhoods.
8.Sample Street Food Sensibly: Delight Your Taste Buds
Jerusalem's street food scene is a culinary adventure waiting to happen. While indulging in local treats, use your judgment when selecting food vendors. Opt for stalls with long lines or plenty of locals, as this usually indicates both deliciousness and cleanliness. 
The water in the rental apartments is always safe to drink, but if you're out and about buy bottled water. This will ensure you don't get any pesky stomach bugs from unfiltered water. 
9.Nighttime Adventures and Curfews: Enjoy Night Time
The allure of Jerusalem's nighttime ambiance is hard to resist. However, it's important to adhere to any local curfews or safety advisories. If you're out and about after dark, stick to well-lit areas and well-traveled paths. Avoid dimly lit alleys or areas that might not be well-maintained.
Remember, your journey to Jerusalem is about discovery, connection, and cherished memories. By embracing these safety tips and venturing forth with an open heart, you're sure to create an experience that's as secure as it is sensational. So go ahead, explore the nooks and crannies, indulge in the local culture, and make your visit to Jerusalem an adventure of a lifetime.
Ready to embark on your Jerusalem adventure? Check out our range of long term apartment rentals in Jerusalem, offering you comfort, security, and a place to call your own in this remarkable city.