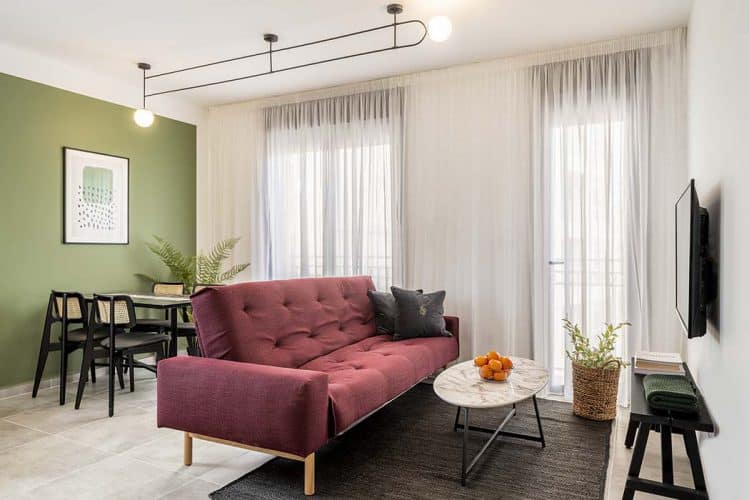 How to Choose the Best Luxury Apartment in Jerusalem
Choosing a luxury apartment in Jerusalem is like finding a diamond in a treasure chest – it requires a keen eye and discerning taste! But fear not luxury seekers, for we at TLV2GO know all the secrets to help you select the perfect abode. From amenities that spell opulence to the best location fit for royalty, we've got you covered. We'll even share our inside information on how to get the best value for your money. 
At TLV2GO, luxury accommodations are our specialty. We know exactly what distinguished tastes require in a home away from home, so we've done the hard work for you! Now you only need to choose what size suits your vacation or business travel needs best and pick your favorite location. The city of Jerusalem is absolutely incredible, and staying in luxury will ensure that you stay well-rested on your next trip, whether it's for business or pleasure. And we all know that 'well-rested' on vacation is one of the most important factors for enjoying your long days of adventure or hosting successful business meetings. 
So let's dive in and discover how to choose the best luxury Jerusalem apartments for rent. And when we say the best, we mean it. At TLV2GO, we know that the place you choose to rest and recover from your adventures makes all the difference. Therefore we offer only the best locations infused with fabulous decor, plush furnishings and all the amenities you could ever want.
Amenities That Scream Opulence 
When it comes to luxury Jerusalem apartments for rent, amenities are the crown jewels. Look for features that pamper you like royalty. A rooftop plunge pool with stunning city views, outdoor space where you can sip your cocktail as you watch the sun slip slowly below the horizon, and high-end furnishings with modern decor. After all, don't you want to ensure your travel weary body can relax like a king or queen? These are the signs of true opulence. Don't forget those luxurious extras like concierge services, private terraces, and high-end appliances. After all, you deserve nothing but the best!
Location, Location, Location – Fit for Royalty 
In the realm of luxury, location reigns supreme. Choose a neighborhood that befits your royal tastes. Whether you prefer the enchanting charm of the Old City, the cosmopolitan vibes of Mamilla, or the serene beauty of Talbieh, the best location is one that resonates with your desires. Ensure it is well-connected to major attractions, shopping, and dining, so you can embrace the city's charm at your whim. 
Our newest crown jewel is located on a quiet street right next to the famed Mahane Yehuda Market. Just a short walk to the Old City, this fully refurbished, modern building offers a wide selection of sizes. Perfect for a few days, a few weeks or even a few months, these stunning new apartments have it all.
Best Value for Your Money – Regal Deals Only 
Luxury doesn't necessarily mean you have to break the bank! Seek out long-term apartment rentals in Jerusalem that offer regal deals. Keep an eye out for seasonal discounts, special packages, or extended-stay rates. Planning your stay during off-peak seasons might also bring you more bang for your buck. Remember, it's not about spending more, but finding the perfect balance between luxury and value.
The winter season is a fantastic time to catch some of our best deals and still enjoy the beautiful city of Jerusalem. If you prefer colder weather for walking, this is the best time to visit! And if you're looking for long term apartment rentals in Jerusalem, we've got you covered. With many years of experience catering to business travelers and digital nomads, we know how to combine comfort and style with practicality and amenities that matter (like high-speed intenet!).  
Unraveling the Mystery of "Well-Equipped" 
When perusing luxury apartment listings, you might come across the term "well-equipped." But what does that mean? Think of it as having everything you need for a royal stay. A well-equipped luxury apartment should include high-speed internet to stay connected, a fully-furnished kitchen to satisfy your culinary cravings, and a state-of-the-art entertainment system to keep you entertained like a monarch. It's all about having the comforts of home, plus the extras that elevate your experience.
As you embark on your quest for the perfect luxury apartment, don't be shy to ask questions. Seek clarity on what's included in the well-equipped amenities. Does it have a washer and dryer? How about a dishwasher? Don't hesitate to inquire about the apartment's layout, view, and proximity to nearby attractions. A true luxury rental provider like us at TLV2GO will be more than happy to answer your royal queries!
Choosing a luxury apartment in Jerusalem is about indulging in the finest experiences life has to offer. Look for amenities that scream opulence, a location fit for royalty, and regal deals that offer the best value for your money. And when you come across the term "well-equipped," remember it means having everything you need for a lavish stay. With these secrets unveiled, your quest for the perfect luxury apartment will be a resounding success. So embrace your royal taste, explore the enchanting city of Jerusalem, and let the opulence of your chosen abode make you wish you never had to leave.