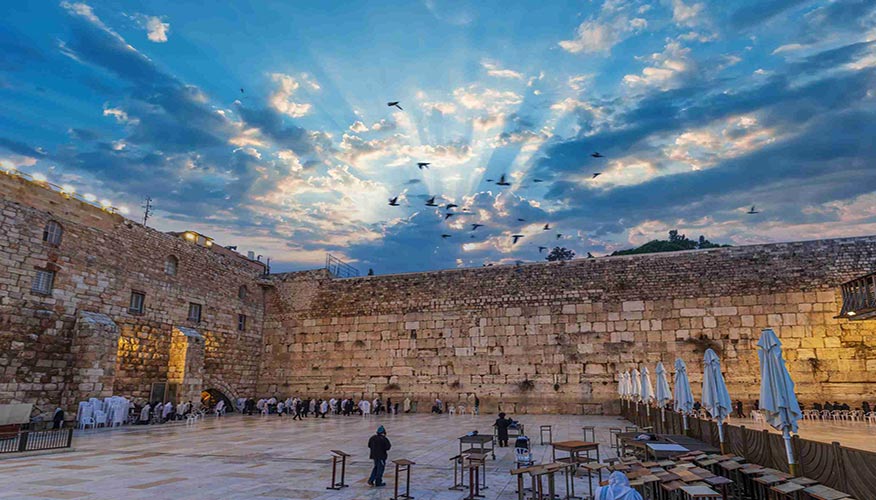 How to Find the Best Location for your Apartment Rental in Jerusalem
Finding the best long-term apartment rentals in Jerusalem — or even the top short term rental —can be a daunting task. Especially if you're new to the city.  At TLV2GO, we've got some insider tips and tricks to make your search easier and more enjoyable.
First, let's talk about location. Jerusalem is a city with a rich history, diverse  cultures, and vastly different neighborhoods. Depending on your preferences, you may want to consider a long term apartment rental in Jerusalem in one of the most popular neighborhoods. But how do you know which one to choose?
The Top Neighborhoods in Jerusalem
The Old City
If you're looking for an immersive experience in Jerusalem's ancient history, the Old City is the place to be. With its narrow alleyways, iconic landmarks, and religious significance, this neighborhood is a treasure trove of history and culture. Without a doubt this is the place to stay if you want to be as close as possible to the spiritual landmarks of the city. If you love exploring history through the very walls around you, nothing beats the ancient Old City of Jerusalem.
Nachlaot
Located just west of the Old City, Nachlaot is a picturesque neighborhood with a bohemian vibe. It's known for its colorful architecture, eclectic mix of residents, and lively market. If you're looking for a bit more action and you like being in the heart of things, this area is an excellent choice. It also gives you a feeling of the local diversity and it's a great place to start your day if you're visiting Jerusalem for pleasure. 
Rehavia
This upscale neighborhood is located just south of the city center and is known for its tree-lined streets, beautiful homes, and quiet atmosphere. It's a great option if you're looking for a more residential feel. And even if you decide to stay elsewhere, this is a gorgeous little corner with numerous historic buildings and loads of history. It's worth a walk around while you're in Jerusalem.
Talpiot
Located just south of the Old City, Talpiot is a bustling neighborhood with a mix of residential and commercial areas. It's known for its shopping centers, restaurants, and vibrant nightlife. People seeking a more 'live like a local' flavor will appreciate this thriving part of the center. 
Once you've chosen a neighborhood, it's time to start looking for apartments. Here are some tips to help you find the best long-term apartment rentals or short term rentals in Jerusalem:
Use the TLV2GO website to help you discover what apartments are available in which areas. You can also search based on your needs, such as size and budget.
Look for apartments that fit your budget. Jerusalem can be an expensive city to live in, so it's important to set a budget and stick to it. Keep in mind that long-term rentals may be more affordable than short-term rentals.
Check the apartment's amenities: Make a list of the amenities you need in an apartment (e.g. air conditioning, laundry facilities, etc.) and make sure the apartments you're considering have them. 
At TLV2GO, you'll find the best amenities available on the market today. We take pride in providing beautiful designs and comfortable furnishings in the top locations. We put the Amen in Amenities!
One reason to choose a long term apartment rental for your stay in Jerusalem is that with so much history, it may take some time to truly explore the various layers of the past and discover why this place is considered the spiritual mecca of the world.  In fact, Jerusalem is one of the oldest cities in the world. It was founded around 3000 BCE and has been inhabited continuously ever since. It's also considered one of the holiest cities in the world, with significance for Judaism, Christianity, and Islam.
One of the most iconic landmarks in Jerusalem is the Western Wall, also known as the Wailing Wall. It's the only remnant of the Second Temple, which was destroyed by the Romans in 70 CE. The Western Wall is a place of pilgrimage for Jews from around the world, who come to pray and place notes in the wall's cracks.
Another must-see landmark in Jerusalem is the Dome of the Rock. This stunning golden-domed shrine is located on the Temple Mount and is one of the holiest sites in Islam. It's also a site of significance for Jews and Christians, as it's believed to be the location of the First and Second Temples.
Whether you're coming for three weeks or three months, no trip to Jerusalem would be complete without visiting some of this city's most significant landmarks. But when it comes to finding the right place to stay to start your trip, 
TLV2GO is the best place to start! With apartments available in various sizes for long term and short term rentals in Jerusalem's top locations, you'll find everything you want with us. We're happy to help you decide where to stay based on your travel wants and needs. Contact us today and we'll help you find the best apartment for your next trip to Jerusalem.