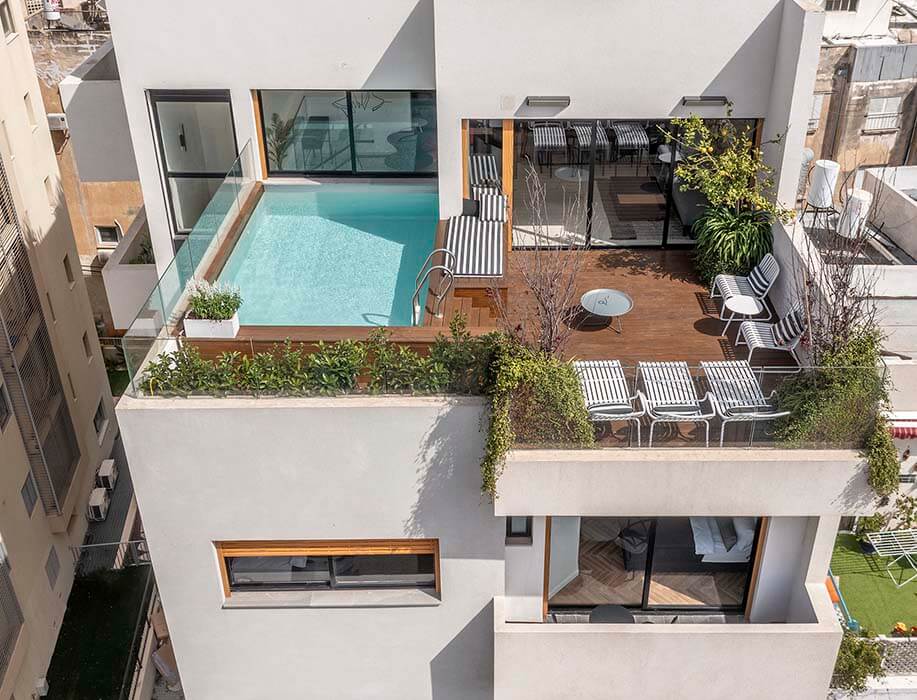 Tel Aviv in December: A Great Time to Work or Visit
You may envision dreary, cold, rainy days in December. But in Tel Aviv, that's rare even for the winter. In fact, with 300 sunny days a year on average, It's usually NOT raining. Even in December It's often warm enough for the beach. And December has major advantages for finding the best deals on apartments in Tel Aviv. And especially business apartments for rent! Why? Because the tourists haven't figured out yet that it's still great weather yet the prices are far lower than summertime.
December in Tel Aviv can entail some rainfall (on average about 8 days out of the month), but temperatures are still around 19 degrees celsius. For northern Europeans that's summer weather! Plus, you'll have the sea to yourself and empty stretches of tourist-free white sand. Unless they're out for a surf, the locals typically avoid swimming in the winter months because it's too cold. So you'll have the beautiful Mediterranean all to yourself in December.
Another great reason to visit or work in Tel Aviv in December is the availability of business apartments for rent. Not only are prices lower, you've also got a plethora of choices as the best short-term apartments in Tel Aviv are usually not rented in the winter. At TLV2GO, we've got fantastic deals on our business apartments for rent in December.
Beyond those fabulous advantages, the best tourist attractions in the city will also be less crowded. The city has a calmer vibe in December so it's also easier to get around by bus, bike, foot and car. No matter how you're traveling, you'll get there faster. If you're an early riser, you'll love seeing sunrise at 6:30 AM. It's the perfect time for a quiet walk on the beach!
Without so much chaos and outdoor distractions, it's easier to visit the city's landmarks on foot. If you're coming for work, it's also easier to concentrate on your job and focus on your projects with more external peace and quiet.
December also brings loads of great shows to the city as people seek indoor entertainment more frequently. Catch an opera performance at the Cameri or a postmodern play at Habima theater. You can also find great dance performances at Suzanne Dellal and a wealth of live music concerts at various venues around the city – from underground dive bars to opulent discotheques.
December draws many international acts to Tel Aviv from around the world too so you're likely to find some of the most talented artists from around the world on stage during the winter months. 
Plus, December is a big month for the holidays. The Christians in Yafo celebrate Christmas and every year the Christmas tree trend gets a little larger in this part of the city. Although it's nothing like Europe, you will find Christmas lights and a massive Christmas tree at the clock tower in Yafo. You also have Christmas services at a few churches and some festive parades that take place in the mixed neighborhood of Yafo. This multicultural experience is particularly amazing as it brings together holidays from various traditions in a place where Arabs and Jews live side by side. 
December is also the month for one of the most beloved holidays of the year: Hanukkah. Not because of the lighting of candles or singing. This is one holiday everyone loves because of a single tasty treat that only comes out only for Hanukkah: Sufganiyot. Seriously yummy, these deep-fried treats are like 8,000 calories a piece, but they're worth it!
So what are sufganiyot exactly? They're similar to a donut, but stuffed with various things. More and more inventive and varied every year, it's no longer just the traditional chocolate, strawberry jam or powdered sugar varieties.
Nowadays you'll find pistachio, chalva, banana and caramel. Every year the line at Roladin bakery during Hanukkah is out the door and down the street. For the traditional flavor, that's the place to start. But don't stop there. Nearly every bakery in the city will be making their own style and version of Sufganiyot for the festival of light. Boutique Central has a french twist that's uber delicious. Cafe Xoho, the hipster hangout for expats, serves vegan sufganiyot. And at The Showroom Bakehouse you'll find American style sufganiyot. 
On top of great deals on apartments in tel aviv, multicultural holidays with delicious food, December is a perfect time to wander through some of the great museums the city has to offer. From the Tel Aviv Museum of Art to the Eretz Israel Museum near the university, you've got galleries ranging from small to large, and in December you will have them largely to yourself. Don't miss the Ilana Goor Museum in Yafo and the new Steinhardt Natural History Museum. This five-storey museum offers a wealth of interactive exhibits covering biology and nature to human impact on the planet. 
So although December may have been out of your mind for being the best time to visit a destination famous for its beaches, Tel Aviv has a lot more to offer than just white sand. Go for a work trip in December and take advantage of the best business apartments in Tel Aviv at the best prices. Speak to us at TLV2GO about the top locations for you or your employees today. After all, it's not every month that you can get a super deal on apartments in Tel Aviv and taste a sufganiyot!