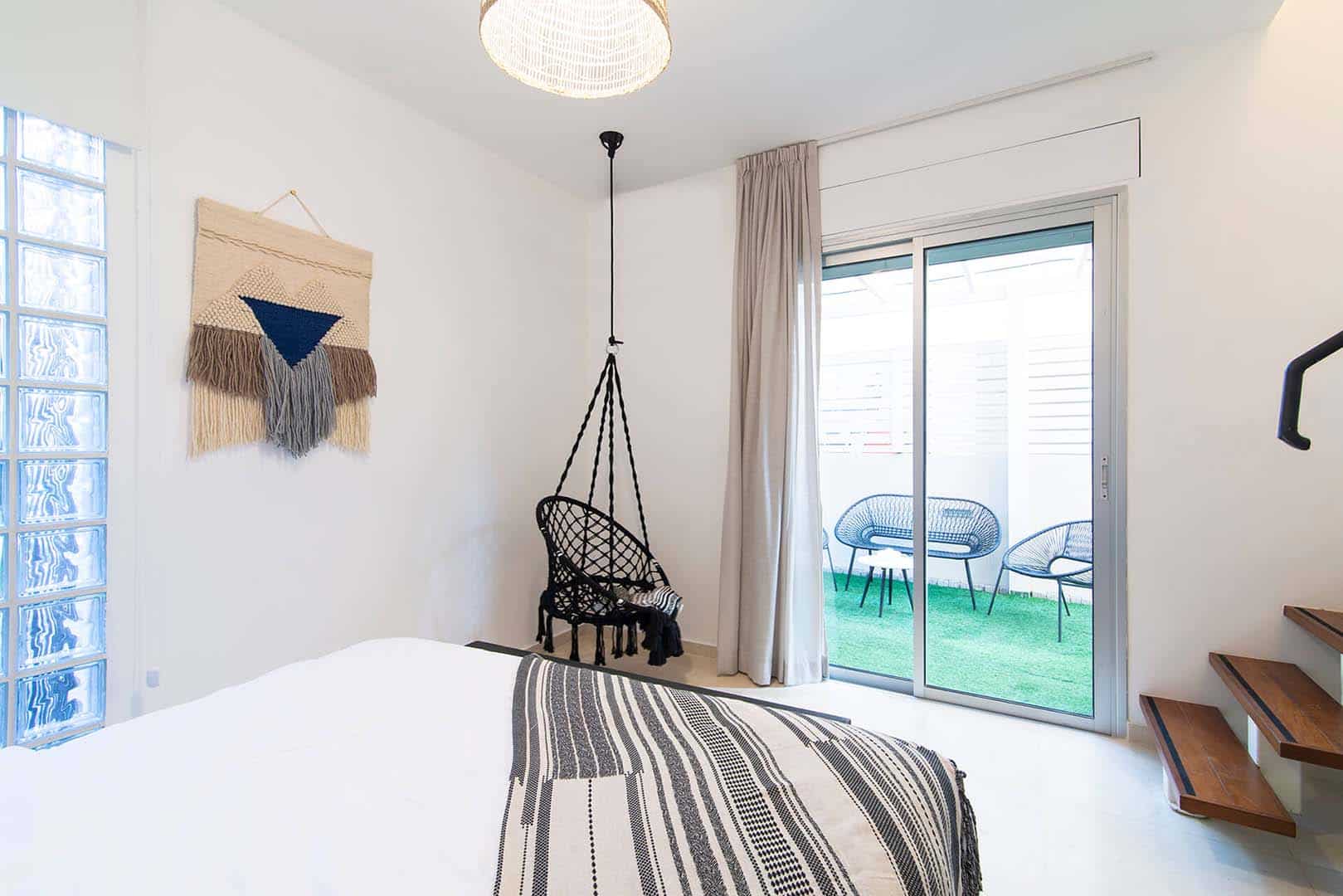 Tel Aviv's Best Neighborhoods
Where to Stay in Tel Aviv 
Although it's relatively small in scale to some of the world's top tourist destinations, Tel Aviv has a wide range of vastly different neighborhoods. With so many diverse neighborhoods to choose from, it can be overwhelming to decide where to stay. At TLV2Go, we've got you covered. Our furnished apartments in Tel Aviv are located in the best places to stay —no matter which neighborhood you choose.
That's being said, there's something for everyone. So let's  explore some of the city's top neighborhoods. Then you can decide where you want to be —whether you're coming for work or vacation.
If you need a large furnished apartment, that's also not a problem. At TLV2Go, we have a wide selection of big, spacious and fully equipped rentals to accommodate you on your next visit.
Neve Tzedek
Located just south of the city center, Neve Tzedek is one of Tel Aviv's most charming neighborhoods. With its picturesque streets and historic buildings, it's easy to see why this neighborhood has become a favorite among tourists and locals alike. In addition to its beauty, Neve Tzedek is also home to some of Tel Aviv's best restaurants and shops, making it the perfect neighborhood for both work and play. TLV2GO offers large furnished apartments in the best locations of this neighborhood. If you like cultural shows and boutique shopping, this neighborhood is a perfect choice for your next trip to Tel Aviv.
Rothschild Boulevard
Running through the heart of Tel Aviv, Rothschild Boulevard is a bustling hub of activity. The street is lined with cafes, restaurants, and shops, making it the perfect place to stay if you want to be in the center of the action. For those looking for large furnished apartments, the buildings along Rothschild Boulevard are some of the most luxurious in the city, offering stunning views of the city skyline.
This is certainly the best choice for those who want to experience the true heartbeat of this thriving metropolis. As an added bonus, it's central location makes it easy to access the rest of the city by bike or on foot, which is a huge advantage in this non stop metropolis.
Old Jaffa
Located just south of Tel Aviv's city center, Old Jaffa is a neighborhood with a rich history and plenty of charm. The winding streets of the old city are filled with galleries, cafes, and boutique shops. It's a great neighborhood for vacationers looking to soak up some history and culture. For those traveling for work, Old Jaffa is also home to several co-working spaces and start-up incubators. Large furnished apartments in Old Jaffa can be found in historic buildings with plenty of character. It's also close to some of the beaches most popular with locals so you'll get a taste of what it's truly like to live like a local.
Florentin
If you're looking for a neighborhood with a bohemian vibe, Florentin is the place to be. Located just south of Jaffa, this neighborhood is known for its street art, live music, and eclectic cafes. While it may not be the quietest neighborhood in the city, it's certainly one of the most vibrant. Large furnished apartments in Florentin can be found in renovated industrial buildings and loft spaces, offering visitors a unique and memorable place to stay. For the young and the young at heart with a penchant for unusual food and quirky art, this neighborhood is the perfect combination of grunge and hipster.
The Beachfront
For those sweking a more laid-back vacation, the beachfront neighborhoods of Tel Aviv are the perfect place to stay. From the bustling promenade of Gordon Beach to the quieter shores of Jaffa, there are plenty of options for those looking to soak up the sun and sea. At TLV2GO, we offer a variety of large furnished apartments with stunning sea views. If you're coming for work, being near the beach is a great way to maximize your time off and soak up the sun whenever you can.
City Center
If you're looking for convenience, the city center of Tel Aviv is the place to be. With its proximity to the main business district and the city's best restaurants and shops, this neighborhood is perfect for those traveling for work or for those who want to be in the heart of the action. Large furnished business apartments in Tel Aviv can be found in modern high-rise buildings, offering visitors all the amenities they need for a comfortable stay.
Bazel
Located in the northern part of Tel Aviv, Bazel is a neighborhood that's perfect for those looking for a quieter stay or coming with children. With its tree-lined streets and low-rise buildings, Bazel feels like a small town within the city. The neighborhood is also home to several parks and green spaces, making it a great place to stay if you want to be close to nature or have a place nearby for the kids to run free. Large furnished apartments in Bazel can be found in renovated Bauhaus buildings, offering visitors a taste of Tel Aviv's prominent architectural significance. 
So no matter what your individual tastes or personal preferences, TLV2GO has the right apartment for you in each of the top neighborhoods. If you want help deciding, don't hesitate to contact us today. We'll help you decide what's best for you!