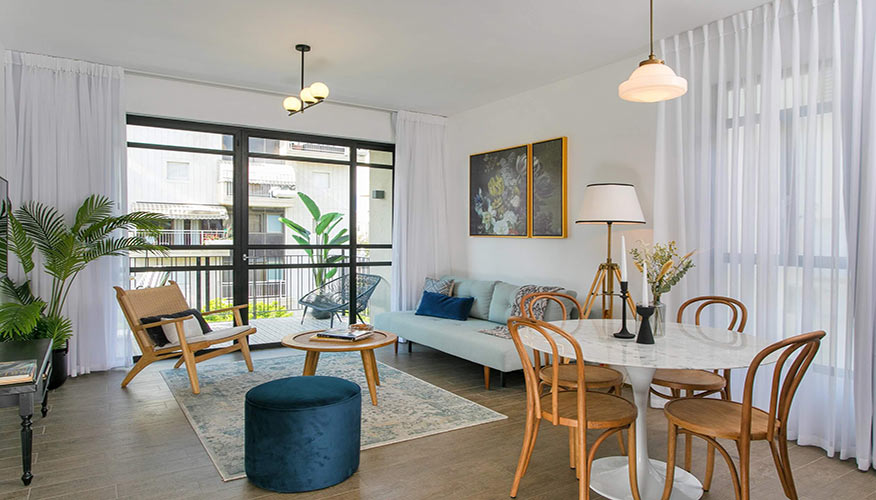 The 5 Coolest Tours of Tel Aviv
Once you've decided between a luxury furnished apartment and a fancy business hotel  (we recommend the former), it's time to decide what to see and how to see it. Even if you're on a corporate work trip, our high-end, fully equipped apartments have far more to offer than the best business hotels in Tel Aviv. And you'll spend less on accommodation, which means you can splurge on the fun stuff – like fabulous dining and interesting tours.
That brings us to the next point. What's the best way to visit Tel Aviv? You've heard about walking tours and bus tours. But what about approaching the history of this fascinating city through food? Or maybe even something even more unusual? What about urban art in Tel Aviv and its symbolism from the past up until today? We picked our favorite unusual ways to explore the city that may give you a unique perspective. Here's our top five. 
1.Bike Tours of Tel Aviv
It may not be Amsterdam, but biking in Tel Aviv has become more and more popular. In recent years, especially with the increasing traffic mess due to metro construction, more and more people commute by bike. The government has made more of an effort to create bike lanes, and you can get just about everywhere these days on a bike without having to ride on the road with cars.
So why not explore like a true local and see the city by bike? Either join the daily, 3 hour bike tour that starts every morning in HaYarkon Park or book your own customized tour to explore the highlights of Tel Aviv by bike. The guided tour takes you through the city on some of the most famous boulevards (with bike lanes) like Rothschild and Ben Gurion, the Neve Tsedek neighborhood and along the gorgeous promenade that runs from Yaffo all the way to northern Tel Aviv. You'll get to see the city from North to South and hear some great stories along the way with your own audio guide. The tour includes bikes and helmets too.
2.Street Art & Graffiti Tours of Tel Aviv
Known for its political turmoil and devastating wars, it's not surprising that Tel Aviv's underground art scene has a lot to say. Or draw, as it were. At the forefront of international urban art, the graffiti and street art in Tel Aviv tells a unique story about the sentiments of some locals. You'll find satire and humor in these gorgeous, unusual and sometimes downright creepy pieces of art. They are meant to make you think and feel outside the box so get ready to open your mind to a new way of seeing.
Unlike the art hanging on the walls of a museum, the street art and graffiti represents the cultural evolution of the city. It provides a different point of view on events and circumstances that will make you question what you think you already know. It is often critical of the political situation, but it also depicts things about daily life that will surprise you. The Be Tel Aviv Tours have a local guide that will walk you through the famous Florentine neighborhood and Nachalat Binyamin Pedestrian area. Discover tiny side streets and alleys that are far off the beaten path while you discuss the psychological, economic and political aspects of urban art.
3.Market Tours of Tel Aviv
What better way to experience the city than through your tastebuds? The market tours will take you through the famous open-air markets in the city, introducing you to some fine middle eastern cuisine and culture. Known for its lively, authentic atmosphere, Tel Aviv has a wide variety of markets to explore.
Carmel is the most famous, but the Levinsky Market offers some unusual fare in a more gritty atmosphere. The flea market in Jaffa is also a fascinating place to wander through heaps of interesting items – from expensive antiques and high-quality persian rugs to old junk and costume jewelry. No matter what you're looking for, you'll probably be able to find it at the flea market.
4.Balloon Flights over Tel Aviv
It doesn't last long, but this exhilarating experience will introduce you to a new perspective on the city. Floating quietly over the noisy streets and hustling pedestrians below gives you a unique view high above the White City.
Up, up and away, the gigantic balloon rises to 300 feet above the city. It's a short tour of only fifteen minutes, but it's a special way to see what's really going on below you all at once. The views are incredible and some of the tours offer champagne and snacks. If you've got a large group you can ask about booking your own balloon. Not just for a romantic excursion, this tour is a really cool way to sightsee. The experience itself is really fun (maybe even a little scary if you have a fear of heights) and it's one you will not forget. 
5.Sailing Charters in Tel Aviv
One of the best ways to see the coast is by sea. Jaffa is home to the oldest working port in the world, and you'll find a number of longtime tour operators offering charters that will take you along the coast in a scenic and beautiful excursion.
Sunset tours are especially popular as the sun always sets over the Mediterranean in Tel Aviv so on a clear day you'll have astounding views. One of the most beautiful sights is to see the glass and steel of the seaside buildings light up with the golden rays of the setting sun. Daytime tours are also a possibility and you can book smaller charters in the Tel Aviv Marina. If you have your own license, you can also rent a sailboat for the day and head out for your own private picnic. 
For more information about our luxury furnished apartments and why they're a better choice than any fancy business hotels (even better than the best business hotels in Tel Aviv, in fact), take a look at our website. For your next trip, why not book the best with peace of mind? Booking the right accommodation is truly the best way to spend more time exploring the city. With so many cool tours to choose from, your hardest decision will be deciding which one to do first.