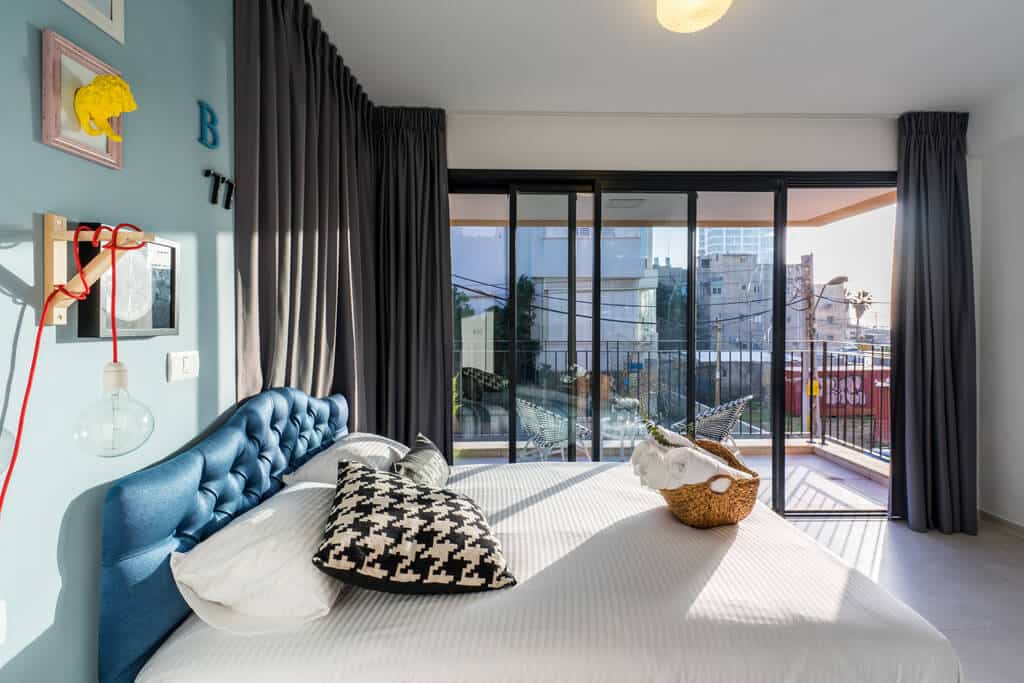 Large Furnished Business Apartments in Tel Aviv
Best Watersports in Tel Aviv 
If you're visiting Tel Aviv as a family, with a group of fellow watersport fans or you've simply got work colleagues tagging along, TLV2GO offers a wide selection of large furnished business apartments in Tel Aviv. And if you're a watersport lover or you just enjoy being close to the sea, we've got 3 bedroom apartments for rent in Tel Aviv with fabulous outdoor spaces just steps from the sand. And if you're also into cooking, you won't be disappointed with the fare at the Carmel Market down the street. It's foodie heaven – especially for chefs.
Mr. Promenade, a perfect choice for large groups and families, is literally across the street from the beach. Beautifully decorated, spacious and high-end decor add extra luxury to the fantastic sea views and outdoor spaces. Plus, you're literally at the doorstep of some of the best water sports venues in the city.
Although you'll need to bring your own gear if you want to kitesurf, for the rest of the water sports, rentals are readily available. Plus, many diehard surf instructors live in Tel Aviv and they're more than happy to give lessons year-round. With very little rainfall and relatively warm water in all seasons, all you need is a wetsuit and you can go any time of year to surf or SUP or windsurf. In fact, many people prefer the waves in the winter because the beaches are also less crowded and surfers can dominate the water.  
Surfing
What better way to enjoy Tel Aviv than through its surf? If you're coming with a group and looking for a large furnished business apartment in Tel Aviv, check out our fantastic seaside options first. Known for its intermittent great waves, surfers in Tel Aviv can be territorial so getting to the beach first has huge advantages. If you need to rent a board, you'll find plenty of options along the promenade in both Tel Aviv near the marina and in the south close to Yaffo. Most rental places also give lessons.
Windsurfing
This super fun sport is a favorite with many locals and visitors. On windy days, you can really have a blast seeing the city from the water and zipping along the coast. Rentals are near Metsitsim Beach and you can also inquire there about lessons. Tel Aviv is actually a great place to learn this sport as most of the time the wind is less intense than in places like Hawaii and the Caribbean.
Kitesurfing
For the more extreme athletes, this is a sport that is less accessible to the general population and a bit more dangerous. Strings stretching all the way along the beach pull you up onto a kite board and if the wind is right, you've got the perfect avenue for some wild jumps and super cool looking tricks. The massive air you can gain with these isn't for everyone and you will have a hard time renting this gear so if you plan to kitesurf, bring your own gear.
SUP (with yoga)
Stand up Paddle (SUP) has become more and more popular in recent years and you can rent gear, go for a lesson and even try a combination of SUP yoga at sunrise. Most places that rent surf gear and boards also have SUPs and instructors around so just inquire at the same places. Even if you've never surfed or you don't like surfing, it's worth giving SUP a try. It's much easier than surfing and it's a great workout while maintaining a certain calmness – especially on a clear day along the coast of Tel Aviv.
Diving
Although the visibility in Tel Aviv is nothing compared to what you'll find in the Red Sea off the coast of Eilat, heading out for a diving excursion is a great way to spend some time exploring the underwater treasures along the coast. You may even catch some dolphins. The scenic boat ride out and back may be the best part, but if you choose a calm day the visibility can be decent. You'll find diving trips and certification courses at the end of the Tel Aviv Marina.
Kayaking
The relaxed, warm waters of the Mediterranean lend themselves extremely well to sea kayaking. This is a really fun way to spend the afternoon and kayaks are readily available for rent near Gordon Beach and in the Tel Aviv Marina. You can also kayak in HaYarkon Park on the river, but it's not advisable to fall in. The water isn't known for its cleanliness there. If you're more advanced and you know you won't be taking a dip, it's a nice place to explore some of Tel Aviv's greener spaces. 
If you're coming on a corporate trip with other colleagues, family members or friends and you need a large furnished business apartment, visit our website or contact us to find out what options are closest to the sea. We've got numerous penthouses with expansive views, large furnished business apartments in Tel Aviv and 3 bedroom apartments for rent in Tel Aviv a short walk from the sea. With its uber long stretch of sandy white beaches, Tel Aviv is the ultimate city for water sports lovers.