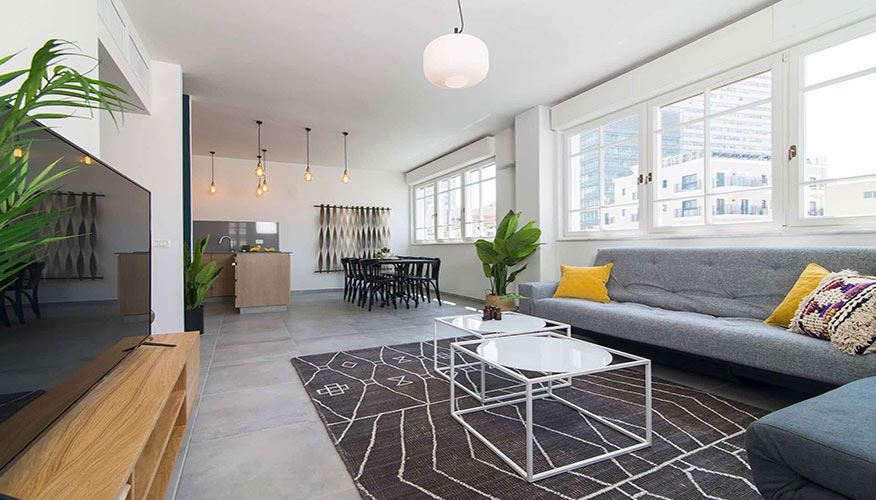 Two Bedroom Business Apartment in Tel Aviv
Tel Aviv's Best Hidden Gems
Ever since Tel Aviv hit the international tourist maps and rose to fame as a liberal, open-minded city with non-stop parties, more and more visitors have been heading over every year. But Tel Aviv isn't all about parties. It's also home to some of the world's most ingenious start-up companies. A large part of the city's economic vitality stems from these innovative technology companies. Google and Facebook have offices here, and more and more companies are sending employees to Tel Aviv for networking, conferences and business development. 
When you're on a corporate trip, one of the most important aspects of life is home. Feeling at home means having space. At TLV2GO, we have over a decade of experience helping clients find the best 2 bedroom business apartments in Tel Aviv. Although we also have smaller apartments, in recent years more of our corporate clients are asking for larger spaces. When it comes to finding a luxuriously large apartment in Tel Aviv, our website has many great options to choose from.  
Finding fully furnished spaces that are bigger than a shoebox can be a real challenge. In Tel Aviv, large apartments for rent are a hot commodity. That's why we've expanded our options in this category. We now offer a wide range of options for 2 bedroom business apartments in Tel Aviv in top locations all over the city. If you need something larger, we also offer a wide selection of 3 and 4 bedroom business apartments.
Why is it so hard to find rentals in Tel Aviv? Part of the reason is that this city deserves its reputation as a global hotspot with beautiful people, amazing food, stunning beaches and more nightlife per square meter than just about any other place on the planet. But beyond the glamor and media attention Tel Aviv has gotten in recent years, some secret treasures and hidden gems remain. You can take some fantastic tours of the city with a local guide, but you can also just start exploring yourself. The best way yet? Head out for a beer and find some city residents to take you around to their favorite spots. Or you can read about our top choices and take a peek for yourself. We'd love to hear what you think.
Parks
Everyone's heard of HaYarkon Park, but what about the sprawling green expanse behind the Tel Aviv Opera called Dubnov Park? This charming little nook is more off the beaten path and large enough to find your own little corner but also small enough to strike up a chat with some locals if you're so inclined. It's a great place for a picnic on a hot day. Second favorite? Erickson Park. Just down the street from Tel Aviv's largest hospital, Ichilov, this hidden little park is perfect for a moment alone. It's never crowded and there are plenty of great benches to sit on in the shade.
Beaches
Most of the main beaches in Tel Aviv are widely known and can even become crowded in the summer months. But if you have time to walk all the way down the promenade to the southern edge in Yaffo to the very last corner of Charles Clore beach, you'll usually be able to find some empty stretches – especially outside of the summer months. This relatively hidden patch of sand is a great place to chill alone and watch the sunset. If you walk even further south, you'll find the charming cozy beach called Givat Aliyah. The restaurant Cassis is here and definitely a fantastic place for lunch with fabulous views and great food.
Sunset Spots 
For many years, Independence Park had a bad rap for attracting the city's down and out. It was a place to avoid and you certainly didn't venture there at night. But today, after a massive renovation, it's clean, well-kept and gorgeous. Perched above the seashore, a grassy hill stretches down to the boardwalk beside the Hilton Hotel. The park continues on the other side. It's the perfect place for a sunset stroll or to park yourself on a blanket and catch a spectacular sunset right over the water. It's hardly ever crowded and you'll find mainly locals here, enjoying the kid's play area or perched on a towel watching the waves below.
The Marina of Tel Aviv 
Although the sailors and surfers know and love this quaint, charming marina, many visitors actually never find it. Relatively small, it's a little out of the way and you really have to keep winding around the corner to get there. But once you do, you'll fall in love with the sound of clinking sailboats. Have a glass of wine and some tasty nibbles at Fortuna restaurant or take a sunset yoga class on the wooden boardwalk right over the boats. This is definitely one of the city's hidden gems and worth a visit.
Shapira
Most people have heard of Florentine's grungy underground art scene and many know about the vibrant nights near Yaffo's flea market. Tons of visitors flock to the Carmel Market and Rothschild Boulevard. But few people ever make their way to the Shapira neighborhood. More inland than the other neighborhoods, for many years this was considered Tel Aviv's slum. It largely housed immigrants and low-income families. But today, this charming little niche is one of the city's best kept secrets. A maze of tiny little sidewalk cafes, miniscule parks and charming converted warehouses have transformed the area from dregs to darling. Don't miss a visit to this local favorite.
If you're looking for a 2 bedroom business apartment in Tel Aviv, check out our website at TLV2GO or contact us. We'll be happy to advise you about the best location for your specific needs.